News Archive
NEWS ARCHIVE
Coalition for Impartial Justice Hosts Panel Discussion In St. Cloud
11/21/2013 - 12:55 PM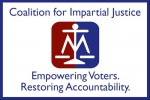 The Coalition for Impartial Justice hosted a forum panel discussion Wednesday, November 21 at the Great River Regional Library, in St. Cloud.
The event's purpose was to introduce the Coalition's Impartial Justice Act. The Impartial Justice Act seeks to change the lack of information available to the public on Minnesota judges up for election.
Panelists of the forum discussion included current Minnesota Supreme Court Justice Alan Page and former Chief Justice Eric Magnuson.
Former Chief Justice Magnuson believes most voters can't execute their democratic voice, "Over 90% of judges run unopposed in Minnesota. When judges run unopposed voters don't have a choice."
The Impartial Justice Act proposes judges evaluated by appointed officials from all three branches of state government.
Earlier this month, KVSC News Director John Peterson interviewed former Supreme Court Chief Justice Eric Magnuson on the Impartial Justice Act.
Click here to listen to the interview.