News Archive
NEWS ARCHIVE
Gov. Mark Dayton St Cloud Discusses Higher Education and Legislative Session at SCSU
06/13/2017 - 3:30 AM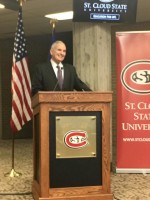 Governor Mark Dayton spoke at the Administrative Services Building on the campus of St. Cloud State University Tuesday at a press conference.
The Governor discussed the budget and bonding bills recently passed by the station legislature and the importance of higher education.
News Director Will Heyer asked, noting the governor is not seeking re-election, what Dayton's successor can do to build upon the foundation of financial support for higher education. Dayton says the state's funding is not sufficient and raising tuition cannot be the only answer. His successor needs to work on behalf of students.
Dayton also spoke on the generational compact and how cooperation between generations is key for higher education support. He outlined if you support education to help train a smarter workforce, that workforce in turn will help the economy and contribute to the current working generation's quality of life and future retirement. He says that compact in society has been lost in recent years.
Tune in Wednesday at 12:30 p.m. for the entire news conference as our Newswatch feature.
Sports Schedule
Wrestling vs University of Mary (Sports Stream)
Jan 19, 2019 - 2:00
Men's Hockey vs Western Michigan University
Jan 19, 2019 - 6:07
Wrestling vs Northern State University (Sports Stream)
Jan 24, 2019 - 7:00