News Archive
NEWS ARCHIVE
New Thrift Store To Benefit Tri-County Humane Society
10/23/2012 - 9:40 AM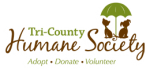 A thrift store opening in Waite Park will raise money for the Tri-County Humane Society. The store called For Pets' Sake will hold a grand opening event on October 28th from noon to 4 p.m.
The store is run mainly by volunteers and sells gently used items including clothes, books, household items, and furniture.
For Pets' Sake accepts donations of gently used or new items. Donations to For Pets' Sake are tax-deductible.
The Tri County Humane Society is an animal shelter located in St. Cloud that provides care for homeless animals, pet adoption and temporary homes for lost animals.
Sports Schedule
Women's Basketball vs Bemidji State University (Sports Stream)
Feb 22, 2019 - 5:30
Men's Basketball vs Bemidji State University (Sports Stream)
Feb 22, 2019 - 7:30
Women's Basketball vs Minnesota Crookston (Sports Stream)
Feb 23, 2019 - 3:30