News Archive
NEWS ARCHIVE
Page [
<<
206
207
208
209
210
211
212
213
214
215
>>
]
12/02/2013 - 11:10 AM
A man was arrested late Thursday night after failing to stop for a routine traffic violation and fleeing from police.
According to St. Cloud Police, a motor vehicle pursuit started when 23-year-old Paul Joseph Arthur Kruse of Monticello was traveling in the area of I-94 and County Road 136 and refused to stop for a traffic violation.
Assisted by Stearns County Sheriff's Deputies and a Waite Park Officer, St. Cloud Police were able to stop Kruse by using stop sticks after he was driving between 70-80 mph in the area of I-94 and the Avon Exit for County Road 6.
Kruse was tased and arrested at the scene.
He is currently being held at the Stearns County Jail for charges of Fleeing a Police Officer in a Motor Vehicle, 2nd Degree DWI, 2nd Degree DWI Test Refusal, Obstructing the Legal Process, Driving and Revocation and Speeding.
12/02/2013 - 10:35 AM
Two St. Cloud State football players were arrested and taken to the Stearns County Jail Sunday morning after struggling with officers outside of the Press Bar.
According to St. Cloud Police, 22-year-old Renard Richard Groce Robinson alleges to have been assaulted before talking with police. The officers attempted to investigate the situation, but Robinson failed to cooperate and was arrested for disorderly conduct.
During the same incident, 23-year-old Marvin Glen Matthews plowed through officer's to get to the individual being arrested by police after repeatedly being told to stay back. Matthews was then sprayed with pepper spray by the officers and arrested at the scene. He is facing charges of disorderly conduct and obstructing legal process.
No injuries were reported, and additional information is yet to be available at this time.
11/26/2013 - 4:13 AM
The Greater Minnesota Worker Center and area activists showed their support for workers right's and justice Tuesday morning at Work Connection, a St. Cloud Temp Agency. Workers allege the company has abusive practices.
Click here for AUDIO STORY.
11/26/2013 - 12:00 PM
St. Cloud State University will release their annual fall statewide survey starting Wednesday.
The first release of the survey will include a job performance of President Obama, Governor Mark Dayton, Senators Al Franken and Amy Klobuchar.
Also included in the first release of the survey is a "feeling thermometer" that indicates public sentiments towards Republicans, Democrats, Libertarians, and the Tea Party from those surveyed.
629 randomly chosen adult Minnesotans were chosen for the survey. The survey was conducted by 48 trained SCSU students.
Stephen Frank, Professor of Political Science helped train and supervise the students. The students conducted live interviews and random phone bank calling to reach a wide array of people.
Survey analyst and political writer for the New York Times, Nate Silver ranked the SCSU's 2012 survey third in accuracy for nationwide polls.
11/26/2013 - 11:45 AM
Benton County Sheriff Brad Bennett is looking for the public's help with a recent theft of 60 stolen wheels and tires from Luther Honda of St. Cloud.
Investigators learned the theft occurred during the overnight hours of November 15 at the Honda dealership, located in Sauk Rapids. The five spoke, 16, 17, and 18-inch wheels and tires were taken from 15 Honda vehicles parked in the lot.
The Sheriff is also asking for the public's help on a burglary from Mimbach Fleet Supply in Sauk Rapids.
On October 13 a snowmobile trailer, a pull-behind lawn mower and lawn vacuum attachment were all taken from an outdoor fenced in area.
Authorities did recover surveillance footage from the scene.
The truck is described as a dark colored, new model pickup truck. The pickup had a matching topper along with chrome running boards. The truck also had light colored fender flares and a thin pin stripe running the length of the truck.
Investigators say two men gained entry to the fenced-in area of Mimbach Fleet Supply by cutting the gate lock, then drove off with the stolen items.
11/25/2013 - 11:30 AM
A woman is facing charges of 5th degree assault and disorderly conduct after kicking a security officer.
According to the St. Cloud police department, 32-year-old Sarah Linn Anderson was arrested at the St. Cloud hospital emergency room Sunday afternoon after kicking a security officer while receiving treatment.
Anderson was also cited for domestic assault by Wright County stemming from a previous incident in Wright County.
Additional information is not available at this time.
11/22/2013 - 6:50 AM
The Greater Minnesota Worker Center is asking the public to come support temporary area worker's rights and dignity at Work Connection St. Cloud, a temp agency they claim is not treating their workers fairly.
KVSC's John Peterson has more on this event.
Click here for to listen to the AUDIO STORY.
The protest will begin at 10:00 a.m. The public are asked to arrive around 9:30 a.m. if participating.
11/21/2013 - 3:40 AM
A woman has died after a semi-tractor collided into her car, tipped over and lost its load Thursday.
According to the Stearns County Sheriff's Office, 58-year-old Aaron Birr of Eden Valley was traveling northbound on County Road 2 in his semi-tractor hauling sand, when a car, driven by 90-year-old Marcella Cheeley of Cold Spring, was traveling westbound on Minnesota Street.
Cheeley made a left turn onto County Road 2 where she was struck in the driver's side by the semi-tractor, forcing her car into the west side of the ditch.
Cheeley was pronounced dead at the scene. Birr was taken to the St. Cloud hospital.
The accident remains under investigation.
11/21/2013 - 12:55 PM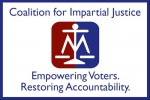 The Coalition for Impartial Justice hosted a forum panel discussion Wednesday, November 21 at the Great River Regional Library, in St. Cloud.
The event's purpose was to introduce the Coalition's Impartial Justice Act. The Impartial Justice Act seeks to change the lack of information available to the public on Minnesota judges up for election.
Panelists of the forum discussion included current Minnesota Supreme Court Justice Alan Page and former Chief Justice Eric Magnuson.
Former Chief Justice Magnuson believes most voters can't execute their democratic voice, "Over 90% of judges run unopposed in Minnesota. When judges run unopposed voters don't have a choice."
The Impartial Justice Act proposes judges evaluated by appointed officials from all three branches of state government.
Earlier this month, KVSC News Director John Peterson interviewed former Supreme Court Chief Justice Eric Magnuson on the Impartial Justice Act.
Click here to listen to the interview.
11/20/2013 - 2:45 AM
MELROSE, Minn. (AP) - A worker at a Jennie-O Turkey Store plant in central Minnesota has tested positive for tuberculosis.

A spokesman for Jennie-O's parent company, Hormel Foods Corporation, says the Stearns County Public Health Department informed the Melrose plant on Monday that a worker had tested positive for TB.

The spokesman says Austin-based Hormel Corporation has identified nine people who work in the same department as the worker who tested positive. A letter with the names of those employees was sent to Stearns County Public Health on Wednesday.

Jennie-O will continue working with the health department. Hormel says TB is a health issue and is not a risk to food safety.The illness is spread through the air when a sick person coughs, sneezes or speaks. Symptoms include coughing, chest pain, fever and fatigue.
11/20/2013 - 1:20 AM
St. Cloud State University has named 10 winners of the 2013 National Science Foundation scholarships.
SCSU received a $600,000 grant from the National Science Foundation in 2012 to support students in pursuing science, technology, engineering and math careers.
The 10 recipients of the scholarship will each receive annual scholarships of $9,100 through the NSF's Scholarships in Science, Technology, Engineering and Mathematics program.
The scholarships were awarded to academically talented SCSU students majoring in information systems, computer science and computer engineering.
The students will be honored at a National Science Foundation award ceremony on December 14th, held in the Atwood Memorial Center.
2013 National Science Foundation Scholarships recipients:
Mariah Ahlert, St. Cloud
Sean Anderson, St. Cloud
William Bruggenthies, Lonsdale
Neil Carlin Schauer, Burnsville
Ahmed Iqbal, St. Cloud
Reuben Kaburu, Brooklyn Park
Erica Koes, Greenfield
Kyung Park, St. Cloud
Natalie Shofner, Wisconsin
Bonyeah Warzecha, St. Cloud
11/20/2013 - 12:10 PM
Have you ever purchased a tasty cookie, or other baked goods from a community event?
Well a series of Minnesota regulations from the State Department of Health makes those sales of cottage foods illegal. "Cottage foods" are defined by the Minnesota State Department of Health as food products produced at home and offered for sale.
According to Watchdog.org Minnesota, two Minnesotan bakers Jane Astramecki and Mara Heck are suing the state of Minnesota for the cottage food regulations.
The law states an individual baker can't make more than $5,000 a year even when selling legally without facing fines, fees and possible jail time.
Astramecki says "Minnesota bakers ought to be able to sell however many treats they want, from wherever they want."
11/19/2013 - 11:20 AM
ST. CLOUD, Minn. (AP) - The city of St. Cloud says there's a place for couches, and it's not on people's porches.
The City Council has banned putting furniture designed for interior use outdoors on private property -- or next to a public right of way.
The St. Cloud Times reports that the move follows increasing concern about the practice in the city's core neighborhoods.
One resident, Mary Mathews, said at a public hearing that such an ordinance used to exist and she was glad to see it return. Mathews said it's not just a concern about appearance. She said upholstered furniture can become a health and safety hazard, including being a target for arson.
11/19/2013 - 10:50 AM
This Friday, November 22nd marks the 50th Anniversary of President John F. Kennedy's assassination.
The Stearns History Museum will be honoring J.F.K. Friday, with a round table event titled "Where Were You? J.F.K. Commemoration." The Stearns History Museum encouraged community members to send in their personal stories of where they were on fateful day in 1963.
Director of Education for the Stearns History Museum Debi Pack selected the top 10 personal stories submitted by local community members. Pack will be narrating and the local residents will share their stories at the event.
The event is free to Stearns History Museum members and $5 for non-members. Anyone in attendance is welcome to share their personal story before then events conclusion.
"Where Were You? J.F.K. Commemoration" begins at 1:00 p.m. this Friday.
11/18/2013 - 9:55 AM
St. Cloud motorists should be aware that beginning Tuesday, the northbound traffic lane on 9th and 10th Avenue will be reduced to a single lane of traffic periodically.
The lane closure will affect 9th and 10th Avenue between West St. Germain Street and 1st Street North.
The City Engineer's Office says the lane closure is expected until Wednesday, November 27th and is needed while crews repair underground construction.
Page [
<<
206
207
208
209
210
211
212
213
214
215
>>
]