News Archive
NEWS ARCHIVE
Page [
<<
54
55
56
57
58
59
60
61
62
63
>>
]
06/21/2017 - 2:20 AM
At Mondays meeting the St. Cloud City Council approved a service agreement with Wisconsin Based Mead and Hunt to begin design improvements at St. Cloud Regional Airport.
Mead and Hunt will design and expand hangers as well as bringing the runway taxi lane up to Federal Aviation Administration standards.
Airport Director Bill Towle says he is confident that construction will begin once a grant to MnDOT is approved. Design services will cost $471,000 with the city responsible for five percent or about $23,000.
The airport is looking to add to the 60 hangers on site, and would like to rent and lease the spaces to corporations. Construction is expected to begin by November 2019.
06/21/2017 - 2:10 AM
Lemon Twist Tour is back and paired up with the Lemonade concert and Art Fair, but you might have to do some walking this year. Also, there is a Mini Maker Fair to add interest to to the tour.
Lemon Twist is the annual collaboration of Visual Arts Minnesota, South Side University Neighborhood Association and the St. Cloud State University School of the Arts where historic architecture is featured on historic south side neighborhood near campus.
The tour will visit four different locations with the Maker Fair being in front of Lawrence Hall.
The stops will be at First Presbyterian Church at 340 5th Ave S and three historic homes at 309 and 315 3rd Ave South and 14 Highbanks Place.
Organizers say you could also enter a free raffle for a chance to win an original 24x36 inch oil painting created by Christopher Zlatic.
06/20/2017 - 9:30 AM
Stearns County Sheriff Don Gudmundson recently appointed a veteran officer to the rank of Chief Deputy.
Jon Lentz was promoted to that role last week. Lentz started as a Correctional Officer with the Sheriff's Office in 1991. He was made a Deputy Sheriff in 1997, promoted to Sergeant in 2003, to Lieutenant in 2007, and to Captain last year.
Gudmundson says as Captain, Lentz was in charge of the Patrol and Investigation Divisions. The Sheriff says he has lots of things to accomplish in his 19-month term as interim Sheriff and it made sense to promote an inside candidate who knows the issues, personalities and the citizens of the county to be the next Chief Deputy.
Lentz holds a Bachelor's of Arts in Criminal Justice from St. Cloud State University.
06/19/2017 - 4:00 AM
Motorists who travel Interstate 94 near Albertville may encounter overnight delays mid-week.
The Minnesota Department of Transportation says eastbound I-94 between County Road 37 and County Road 19 will be reduced to a single lane, and the ramp from eastbound I-94 to County Road 37 is closed. The closure begins at 7 p.m. Tuesday.
All I-94 lanes and ramps in Albertville will open by 5:45 a.m. Wednesday. MN-DOT says the closures are needed while crews install new infrastructure to improve drainage along the interstate.
06/19/2017 - 1:30 AM
Enjoy arts, crafts, and artisan food at this year's 44th annual Lemonade Concert & Art Fair.
St. Cloud State University will be hosting the Lemonade Art Fair where there will be about 200 vendors. This year you can search for Lemonade_WiFi on your phone which will allow users to view a map of indoor and outdoor areas.
The fair runs from 11 a.m. to 8:30 p.m. on Thursday and parking at the 4th Avenue parking ramp will cost $1.50 per hour. Also tune into KVSC 88.1 FM where we will be live from 9 a.m. to 6 p.m.
Visit Lemonadeartfair.com to view the map.
06/19/2017 - 11:00 AM
A truck and a car crashed on County Road 31 in Grove Township south of Melrose.
According to Stearns County Sheriff Don Gudmundson, deputies responded to the scene Sunday at 12:50 p.m. where a Ford F-150 pulling a camper and a Buick Regal have collided in the middle of County Road 31.
Both drivers and passenger have been treated for non-life threatening injuries and one driver was cited for Inattentive Driving.
06/15/2017 - 12:15 PM
If you're heading to the lakes in northwestern Minnesota, we've got great news for you! The Minnesota Department of Transportation announced that all lanes of Highway 27 at Interstate 94, south of Osakis, will open by 5 p.m. Thursday.
Highway 27 over I-94 has been closed since March for repairs and resurfacing. Interchange ramps are set to have continued repairs from June 22nd to the 30th.
Drivers will be going through work zones where flaggers and traffic signs will be posted. Drivers should be prepared to stop in work zones.
06/15/2017 - 12:00 PM
A local faith-based organization is hosting a discussion on climate change.
Executive Director of Family Farm Defenders and local environmentalist, John Peck, will be speaking about climate change at the St. Cloud Unitarian Universalist Fellowship group.
Peck will be presenting "Finding Real Solutions to Climate Change Through Climate Justice" where he will discuss solutions to climate change that actually make climate injustice worse and how people can take action on grass root strategies.
St. Cloud Unitarian Universalist Fellowship is located at 3226 Maine Prairie Road, St. Cloud. Doors will open at 1 p.m. on Sunday, June 25 for the presentation.
06/14/2017 - 3:00 AM
The St. Cloud Fireworks Committee has named the 2017 Honorary July 4th Fireworks Commissioner.
The committee named Dan Coborn and the Coborn's grocery store chain as this year's honorary commissioners. Dan passed away this past March at the age of 86.
According to the St. Cloud Fireworks Board President Tom Richardson, the honor is awarded to area businesses, residents and organizations who embrace the importance of America's Independence Day by helping make possible one of the largest Fourth of July pyrotechnic displays in the upper Midwest.
The commissioner will press the button to start the fireworks and also receive a spot in the Granite City Days parade.
Festivities begin at 4 p.m. in Wilson park with several performances and then the St. Cloud Municipal Band will perform in Hester Park at 8:30 p.m. The fireworks will start at 10 p.m.
This year's celebration is the 70th consecutive firework show hosted in St. Cloud.
06/14/2017 - 2:30 AM
There was a one car roll-over on Tuesday night.
According to Stearns County Sheriff Don Gudmundson 40-year-old Maria De Aranda of Long Prairie was driving her SUV on County Road 13 in Melrose Township shortly after 6 p.m.
The SUV went into the right ditch and crossed back over the road into the left ditch, De Aranda over corrected causing it to roll-over.
She was taken to the Melrose Hospital and was treated for non-life threatening injuries.
06/14/2017 - 2:30 AM
The Minnesota Department of Transpiration and Towards Zero Deaths are holding an open house.
All residents, business owners and managers, motorists and others who have a stake in the safety of Highway 23 between Foley and Milaca are encouraged to attend and share their concerns.
According to MnDOT, those in attendance will be able to meet staff and other traffic security professionals working on the Highway 23 safety audit, provide information and local insight on what local motorists experience daily along the Highway 23 corridor, view displays and take home information.
The open house will be Thursday, June 15, from 6 p.m. to 9 p.m. at the Foley Intermediate School Media Center, 840 Norman Avenue North. A short Presentation will begin at 6:15.
06/13/2017 - 3:30 AM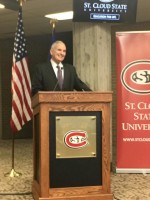 Governor Mark Dayton spoke at the Administrative Services Building on the campus of St. Cloud State University Tuesday at a press conference.
The Governor discussed the budget and bonding bills recently passed by the station legislature and the importance of higher education.
News Director Will Heyer asked, noting the governor is not seeking re-election, what Dayton's successor can do to build upon the foundation of financial support for higher education. Dayton says the state's funding is not sufficient and raising tuition cannot be the only answer. His successor needs to work on behalf of students.
Dayton also spoke on the generational compact and how cooperation between generations is key for higher education support. He outlined if you support education to help train a smarter workforce, that workforce in turn will help the economy and contribute to the current working generation's quality of life and future retirement. He says that compact in society has been lost in recent years.
Tune in Wednesday at 12:30 p.m. for the entire news conference as our Newswatch feature.
06/13/2017 - 2:30 AM
St. Cloud State University has named a new interim dean.
According to University Communications, Shonda M. Craft will be the interim dean of the School of Health and Human Services until June 30, 2018.
Craft was previously the associate dean for the College of Community Studies and Public Affairs at Metropolitan State University in St. Paul. She received her bachelor's degree in psychology, a Master's of Science degree and Ph.D. in human development and family science from Ohio State University.
Craft succeeds Monica Devers who had been the dean since 2013.
06/12/2017 - 3:30 AM
Governor Mark Dayton is scheduled to visit St. Cloud State University Tuesday. It's one of a number of recent stops he's been making after the legislature wrapped up its session last month to talk about the state's budget and bonding bills.
St. Cloud State University is receiving about $18.5 million in newly passed state funding for the renovation of Eastman Hall on campus. University President Ashish Vaidya says the remodel will transform the school's fourth oldest building into a diverse but interconnected set of health and human services-related programs and services.
Eastman was built in 1929 and cost $225,000 to build. It was named after Alvah Eastman, a former St. Cloud resident director to the State College Board. Eastman Hall was used as the original home of basketball, volleyball and swimming.
The governor's discussion begins at 2 p.m. in the Administrative Services building on campus.
06/12/2017 - 12:30 PM
There was a crash near Holdingford on Saturday morning.
According to Stearns County Sheriff Don Gudmundson, 17-year-old Lily Sobania was on County Road 151 and did not stop for a stop sign while going across County Road 52. Fifty-year-old Carol Hellmann was driving on County Road 52 and could not stop in time when Sobania pulled out in front of her.
Hellmann was treated at the scene for her injuries and taken to St. Cloud Hospital, while Sobania was uninjured.
The accident is currently under investigation by the Stearns county Sheriff's Office.
Page [
<<
54
55
56
57
58
59
60
61
62
63
>>
]
Sports Schedule
Wrestling vs Northern State University (Sports Stream)
Jan 24, 2019 - 7:00
Women's Basketball vs Northern State University (Sports Stream)
Jan 25, 2019 - 5:30
Men's Basketball vs Northern State University (Sports Stream)
Jan 25, 2019 - 7:30