Sports Archive
SPORTS ARCHIVE
Listen to SCSU Baseball Action Live from Arizona
03/10/2014 - 9:30 AM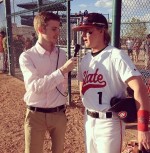 Two members of the Husky baseball team have been named as Northern Sun Intercollegiate Conference Players of the Week. The Huskies are coming off a four game road sweep at Missouri S & T. Zach Hoffmann has been named Player of the Week having nine hits, two runs, two doubles and one walk. Chris Kubitz is the NSIC Pitcher of the Week, pitching seven inning and throwing eight strikeouts.
Hoffman, Kubitz and the rest of the Husky baseball team will travel to Tucson, Arizona for Spring Break to play six games against a variety of opponents. KVSC will provide live coverage of all the games, listen live with KVSC Assistant Sports Director, Declan Goff, click here. Coverage will begin five to ten minutes prior to the first pitch of each game. All times listed below are central time.
Listen to the following games:
Saturday, March 8 at 3:30 p.m. SCSU vs California State University, San Bernardio--SCSU wins 10-6
Sunday, March 9 at 7:00 p.m. SCSU vs Northern State University--SCSU falls 8-5
Tuesday, March 11 at 7:00 p.m. SCSU vs Bemidji State University
Wednesday, March 12 at 11:00 a.m. vs Minot State University
Friday, March 14 at 9:00 p.m. vs Minot State University
Saturday, March 15 at 11:00 a.m. vs Jamestown College (N.D.)

We're excited to provide this little bit of spring action via this webstream. Click here to listen.
Sports Schedule
Wrestling vs Northern State University (Sports Stream)
Jan 24, 2019 - 7:00
Women's Basketball vs Northern State University (Sports Stream)
Jan 25, 2019 - 5:30
Men's Basketball vs Northern State University (Sports Stream)
Jan 25, 2019 - 7:30