Sports Archive
SPORTS ARCHIVE
SCSU Softball Team Makes The Grade
05/21/2012 - 10:00 AM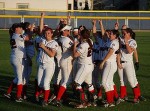 The SCSU softball team made the grade this semester as their team grade point average was 3.01. Out of the 24 athletes seven finished the semester with a GPA of 3.5 or above and seven others recorded GPA's of 3.0 or better for the semester.
Head Coach Paula U'Ren said that these athletes go from the classroom to practice to studying and take great pride in having outstanding grades and make it a team effort.
The Husky softball program boasts a 100 percent graduation rate over the past 15 year and at the same time has maintained a 3.0 team GPA.
Sports Schedule
Women's Soccer vs Sioux Falls (Sports Stream)
Oct 19, 2018 - 1:00
Volleyball vs Concordia-St. Paul (Sports Stream)
Oct 19, 2018 - 6:00
Men's Hockey vs Northern Michigan University
Oct 19, 2018 - 7:07