Sports Archive
SPORTS ARCHIVE
SCSU's Gravel Named To U.S. National Junior Team
12/22/2011 - 9:31 AM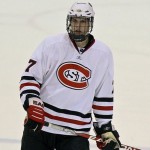 Sophomore Kevin Gravel won't be playing for St. Cloud State next week when they take on Western Michigan. Instead, he'll be wearing the stars and stripes for Team USA in the IIHF World Junior Championships. The Sophomore defenseman from Kingsford, Michigan was named to the U.S. National Junior Team's final 22-man roster announced this morning on USA Hockey's website.
Gravel becomes the seventh Husky to represent Team USA in the World Junior Championships, and the first since SCSU teammate Mike Lee, who won a gold medal in 2010. Overall, Gravel is the tenth Husky to skate in the tournament.
Gravel, a draft pick of the LA Kings, is in his second season for the Huskies and has zero goals and four assists this season for SCSU. He will be joined by several of his WCHA foes including Derek Forbort (North Dakota), Kyle Rau and Nick Bjugstad (Minnesota), Jason Zucker (Denver), as well as Josh Archibald and Head Coach Dean Blais (Nebraska-Omaha.)
The tournament takes place from December 26- January 5. To follow Gravel at the World Junior Championships, follow us on Twitter.