Sports Archive
SPORTS ARCHIVE
SCSU's Lee to Have Surgery, Out Indefinitely
11/15/2011 - 11:00 AM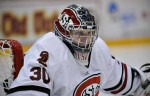 The injury bug has hit the St. Cloud State Men's Hockey team hard this season, and the news got worse for Husky fans this weekend. Per multiple reports from College Hockey News and the St. Cloud Times, junior goaltender Mike Lee is set to have surgery Tuesday on a lower body injury and will be out indefinitely. Lee had been out since sustaining the injury in practice the week before the series at North Dakota.
Without Lee, freshmen Ryan Faragher taken over the starting role and played well for SCSU, but his backups with Lee out are Joe Phillipi and Nate Hardy, who both have no NCAA experience.
Lee is a third round draft pick of the Phoenix Coyotes and would be eligible for a medical redshirt if he is unable to return this season.